CONTACT INFORMATION:
EMAIL: lambdawg@tds.net
Phone number: 256-524-2375
Cell phone: 256-484-1185
PRICES: $300
We will hold puppies with a deposit of $100.
We do ship.
It is not our policy to profit from shipping a puppy.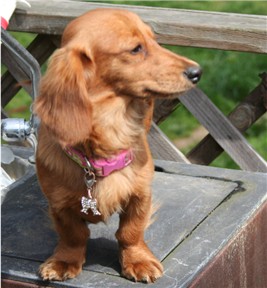 Doll Baby's Puppies
Born 2/18/10
AKC Registered Health Guaranteed Age Appropriate Vaccinations
All Reds - 1 has a patch of cream on chest
3 females 2 males
Ready for new homes 4/3/10

If these puppies' ears look funny - a little up and back, rather than the beautiful floppy ears they do have, my husband was making strange noises to get their attention and dachshund ears do perk up when they hear them.
BOY #1
SOLD
This little boy and Girl #1 are the most alike. They are always together. He is always ready to be held and he's very gentle.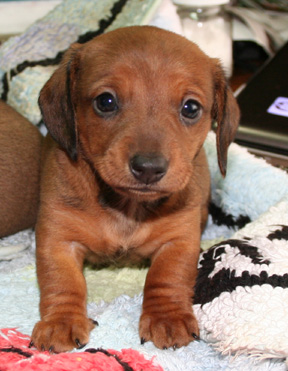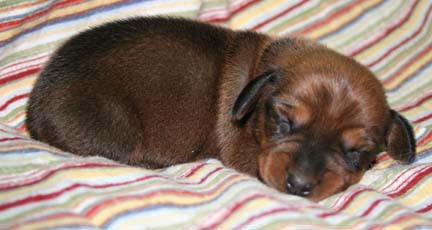 BOY #2
This little is a lover. He uses his big puppy eyes to get you to do anything he wants. He and Girl #2 like to play together.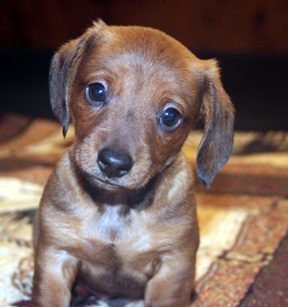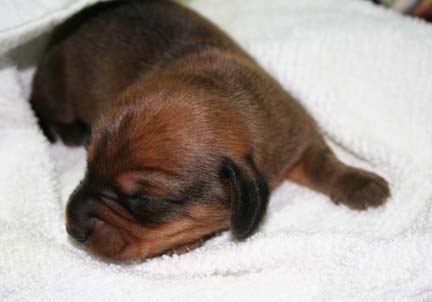 GIRL #1
SOLD
This is a very pretty little girl. Her black overlay is already going away. She's the one who has a little splash of white on her chest. She's so loving. I would say she is the most self-assured one. She doesn't mind when she's left alone yet she loves to be held, too.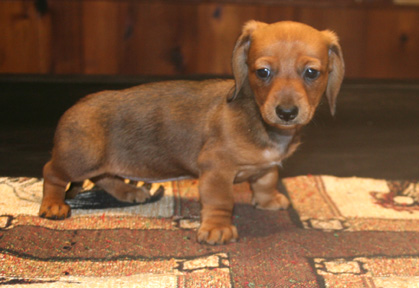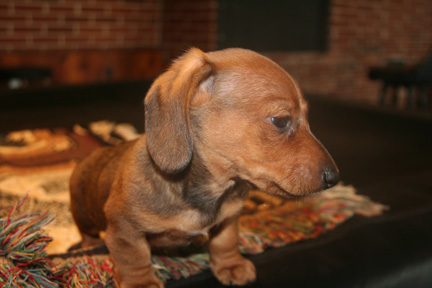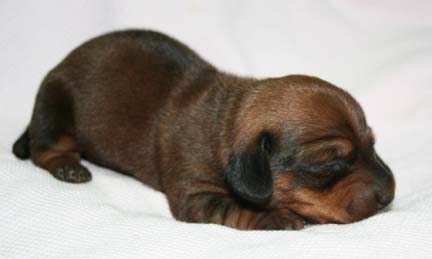 GIRL #2
SOLD
This little girl is a lot like her mother, Doll Baby. She looks a little snobby, doesn't she? She's as loving and sweet as pie. She loves people and will come running if a human says, "Puppies"!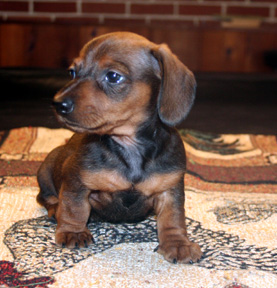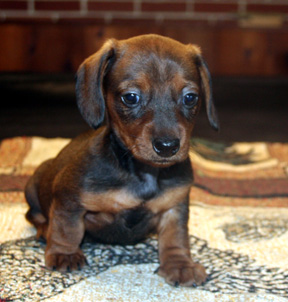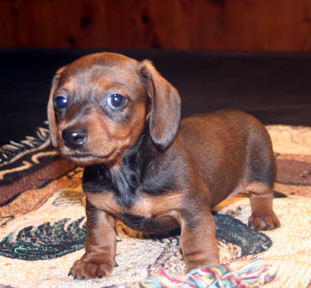 Puppy #3 is sold. She will be living in Gadsden with an incredible woman. I wish I had remembered to take a picture of them together. Maybe she will send me one.

5 WEEKS OLD
BOY #1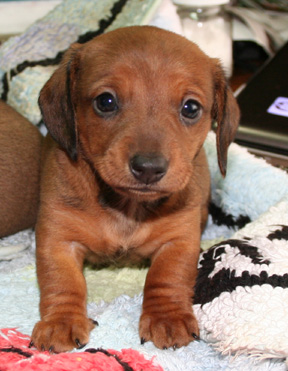 BOY #2
BOYS PLAYING TOGETHER (a.k.a. outtakes)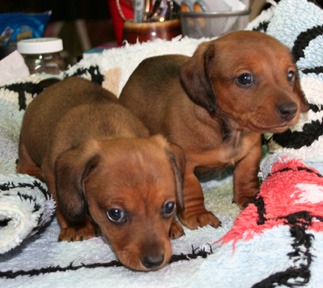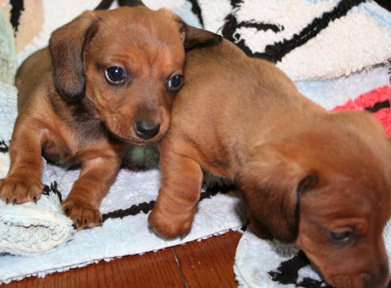 GIRL #1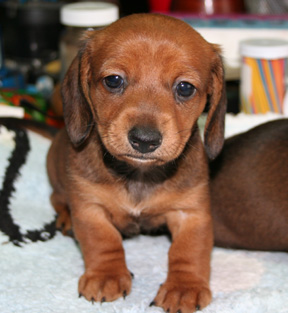 GIRL #2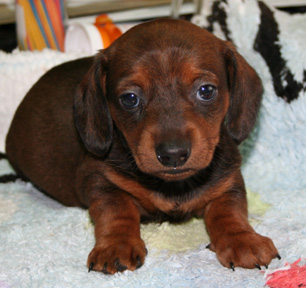 GIRLS 1 AND 2 PLAYING TOGETHER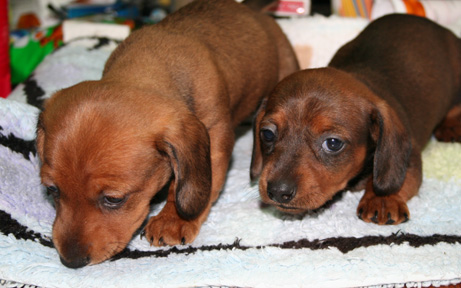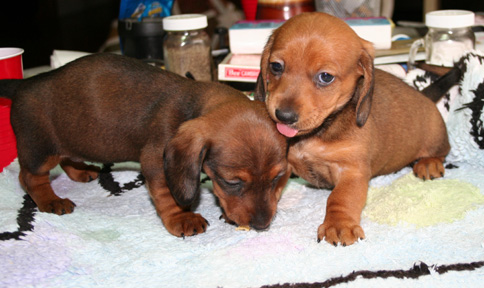 GIRL #3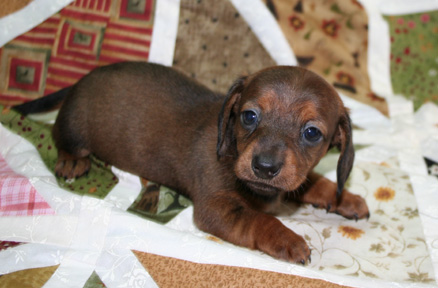 4 WEEKS OLD
They are starting to become mobile. I love the growling and barking. Big bad dogs in the house!
The dark overlay is receding and I see sparkly red hair coming in.
Doll Baby is not happy because they are growing sharp teeth . Weening will begin soon.
These babies are really sweet. They already love being held and talked to. Girl #2 growls at me if I talk in a loud voice. It's so cute. Little girl #3 is very self-contained. I have been supplementing her feeding for a few weeks now and she is very happy to be held all the time.

Big Boy #1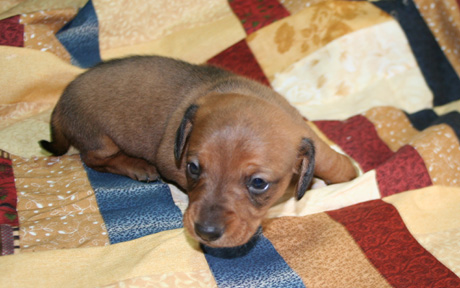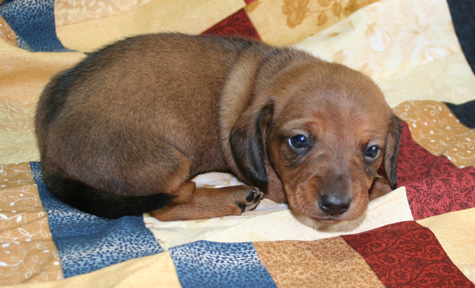 Big Boy #2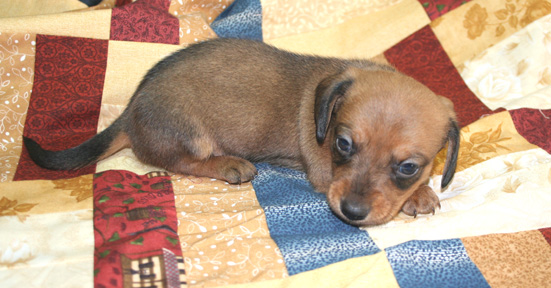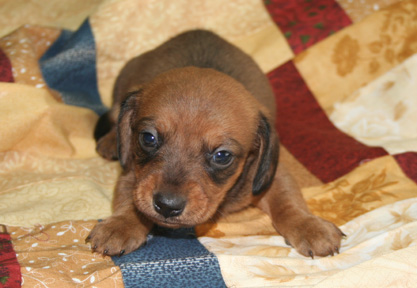 Beautiful Big Girl #1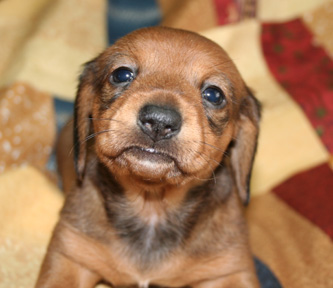 Beautiful Big Girl #2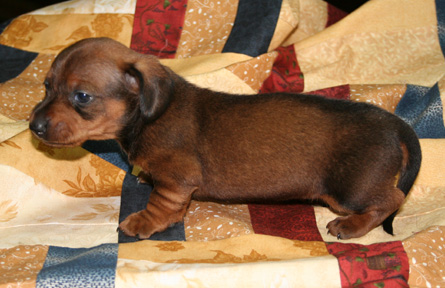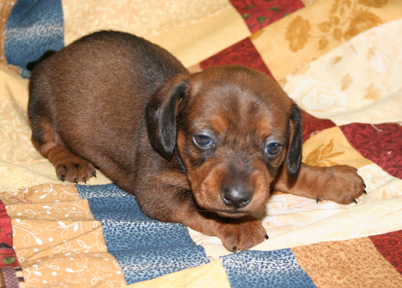 Little Bitty Girl #3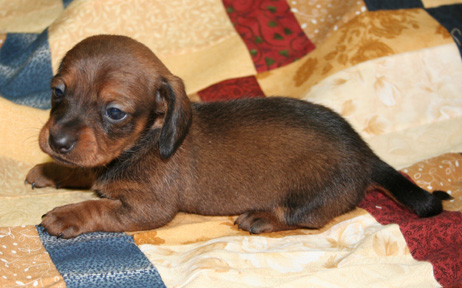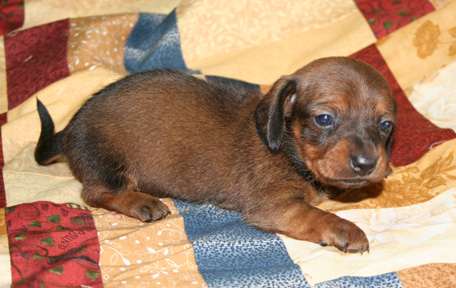 Eyes open - 16 days
As you can see, the bigger they get the more the black overlay goes away. The smaller puppies still have a lot compared to the others. But, it will soon be mostly red.

Boy 1 - $400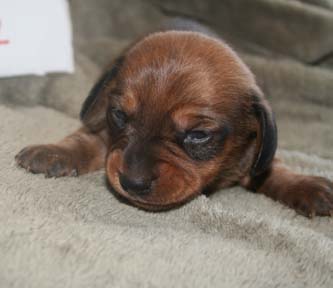 Boy 2 - $400
( I have 2 pics of him because the 1st one is so cute but he's really not piggy looking. :) )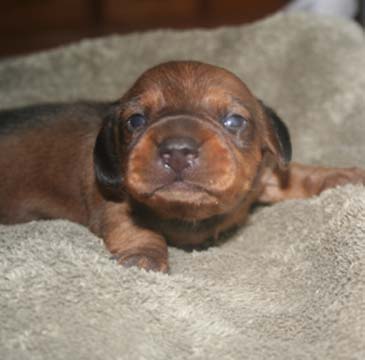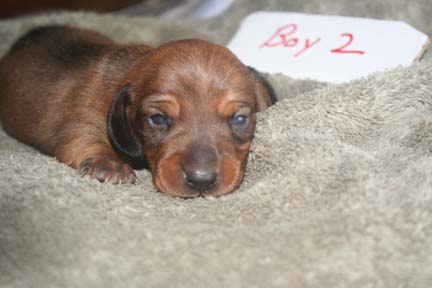 Girl # 1 - $450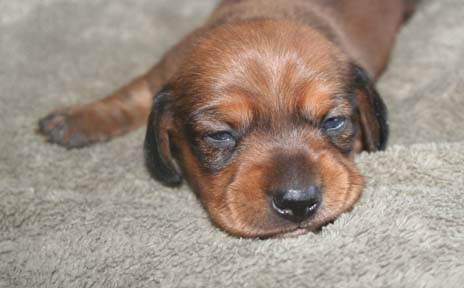 Girl # 2 - $450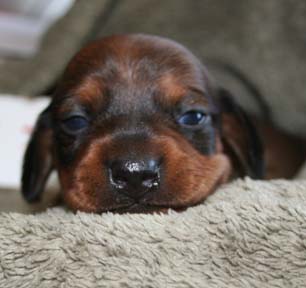 Girl # 3 - $450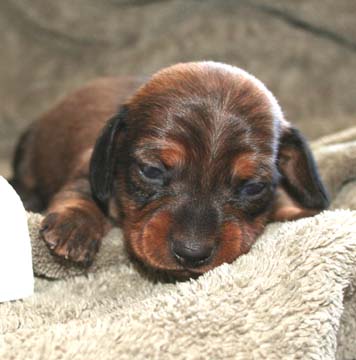 Puppies 11 days old
Boy#1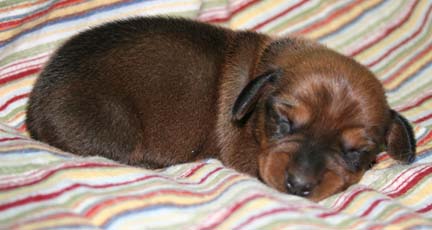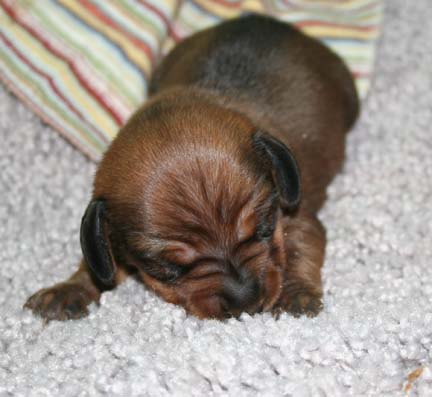 Boy # 2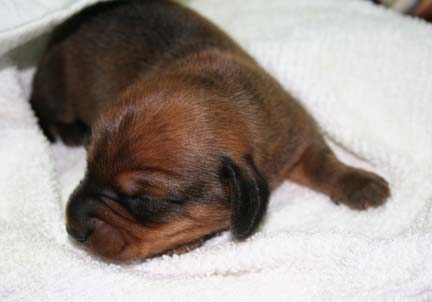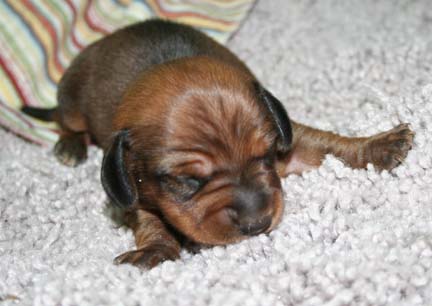 The 2 boys together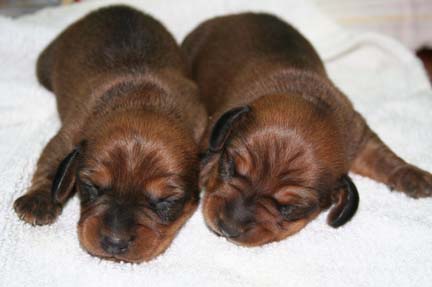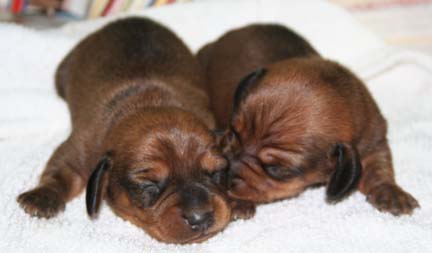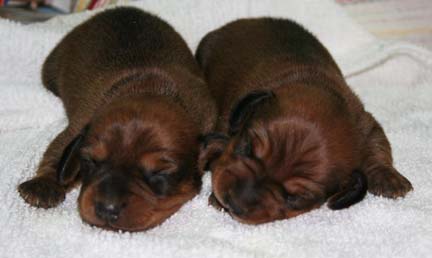 Girl # 1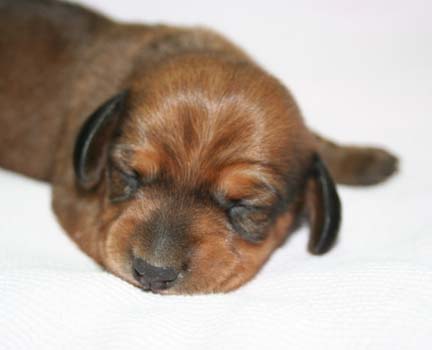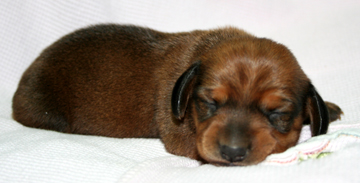 Girl # 2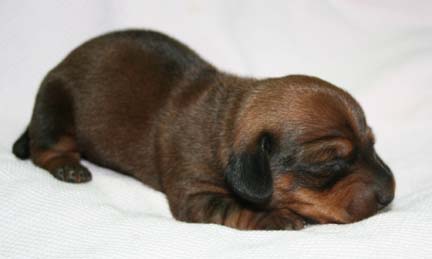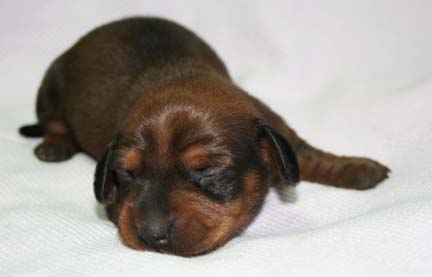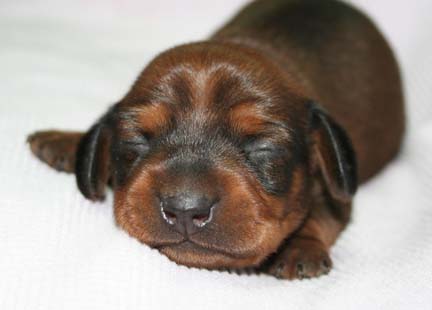 Girl # 3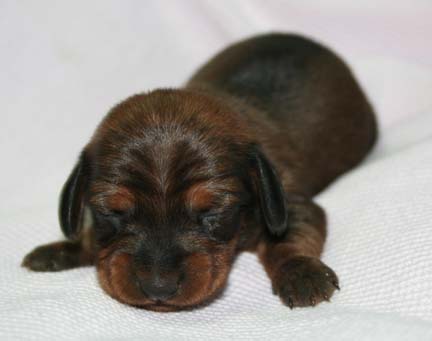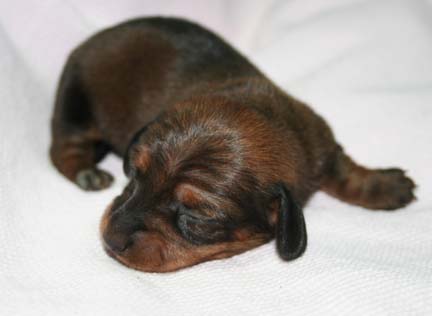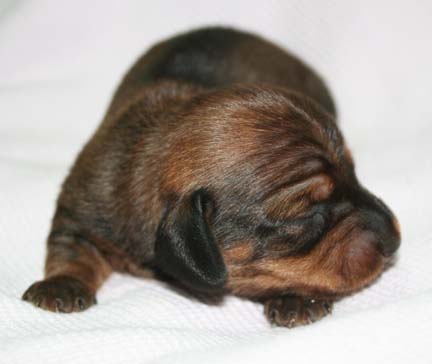 1st Puppy Pics - 4 days old
(Doll likes bare wood rather than soft lining. I figure she knows best and stopped fighting it)